---
One of our goals is to develop long term relationships with all of the families who swim with us. To do this we have small class sizes allowing for lots of individual interaction. We also have a DECK SUPERVISOR who is a senior staff member and experienced instructor. The deck supervisor is the "concierge" for both the instructors and parents. The deck supervisor assists instructors with evaluating students and they provide an extra layer of safety as the extra eyes to watch all of the classes. The deck supervisor knows all of the students and can advise parents on progress and address any concerns you may have about your child's class. We have customer service specialists who can assist you with registration, swim gear purchases and any questions about our programs. Thank you for choosing Little Flippers!
Founders – Edward and Sally Poveromo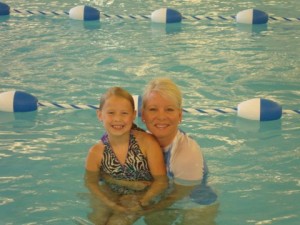 Prior to owning her own business Sally Poveromo, M. Ed., worked in sales for a biotechnology firm and as a chemist for a major pharmaceutical company. She now joins her husband Ed, a former NCAA Collegiate Swimming and Diving team member, as they introduce their Little Flippers Swim School program to families in the Boston area. Together they have a shared belief that swimming is one of the greatest physical activities in the world and that swimming education has become essential for infants and toddler safety. They want to expand opportunities for children to get movement education and whether it is in the gym or the pool, provide experiences that teach learning skills and life skills better than other children's activities, especially for young children.
Young children live in a physical world and there is simply nothing like the progressive challenges of gymnastics and swimming activities for teaching self confidence. Both activities foster the life long health habits of physical activity.
Sally is the founder of Planet Gymnastics and has owned and operated that business for over 20 years. When not at work you can find Sally on the tennis court or out running or biking. She has completed 3 Boston Marathons, the Chicago Marathon, and the Pan Mass Challenge.  Both Ed and Sally are current members of the National Drowning Prevention Alliance, the United States Swim School Association, and the International Swim School Association. They travel regularly around the country and world to meet with other aquatics professionals in order to stay abreast of new trends within the industry. Most recently attending the Australian Swim School Association meeting and the World Infant Aquatics Conference held on the Gold Coast Australia.  Sally has completed all parts of the USSSA program of study for teaching infant and toddler swim, is on the Education committee for the USSSA, and both Ed and Sally are American Red Cross Lifeguards and NSPF Certified Pool Operators. Little Flippers is the realization of a combined dream to provide kids of all ability levels, an opportunity to begin a life long love of water for safety, fitness, and enjoyment
Andy Broido – Consulting Flipper & Curriculum Development Specialist
Andy Broido sold her swim school, Quality Swimming, in October 2011 to two of her long time employees and quickly started her swim consulting practice. Andy recently joined Little Flippers Swim School as a part time consultant and is instructor for curriculum development and staff training. She currently splits her time between her business, A Broido consulting and the Swimagine Institute which is a division of 3rd Level Consulting.
Swimming has always been a focal point of Andy Broido's life. At age 12, Andy held her first swim instructor position at Brown Ledge Camp in Malletts Bay, Vermont and has been doing it ever since. She started her 1st swim school in Orange County, California in the 1970's after holding multiple Aquatic Director Positions. In 1985 she moved to Boca Raton, Florida to direct the swim school at the world class facility Mission Bay. She built that school from the beginning until 1991 when Mission Bay closed and the swim school became Quality Swimming. Andy is a former USSSA board member and a long time member of the infant committee. She is also a member of the National Drowning Prevention Alliance, Swim Australia and Safe Kids.
---
Of course, the heart of our swim school is our dynamic professional teaching staff.  They are specifically chosen for their child friendly personalities, maturity and compassion for children.  In addition to their love of children and talent for teaching, they are all certified in Lifeguarding, First Aid, CPR and AED.  Each of our instructors is well trained in the "Four Pillars of Swimming" method and regularly participate in hands on in water trainings and seminars.  They are our Managers, Deck Supervisors, Swim Instructors and Deck Assistants.  Our entire staff is also required to attend regular training workshops and they must pass a NCIS background check.
---
Our Leadership Team
Our
Instructors, Office and Deck Support